If you have any questions about securing your cannabis dispensary or growth operation, now's your chance to ask! Chris Eggers, CEO and founder of Cannabis Compliant Security Solutions, will join an Ask Me Anything panel hosted by the MJ Unpacked staff on Friday, April 28!
MJ Unpacked is a major national convention that brings together hundreds of cannabis CPG brands from across the U.S. to connect, collaborate, and network with retailers, manufacturers, and investors. The event allows business owners to commiserate with one another about the current state of the industry, share their hard-learned lessons, and attend conference sessions to hear from leading experts about developing trends and projections. Among these panels is an 'Ask The Expert' session regarding cannabis investor security and risk management featuring CCSS.
The panel will provide tips on how prospective investors can both protect themselves when buying an existing cannabis business and save their money by streamlining their security systems. Investors can learn the proper procedures for exercising their due diligence in checking the security plan's standard operating procedures (SOPs), the hardware incorporated in the security system, and the performance and relationship status with existing vendors providing the services. These are some of the most commonly missed checks for new owners and can represent huge and unexpected expenses in the months or years after the takeover.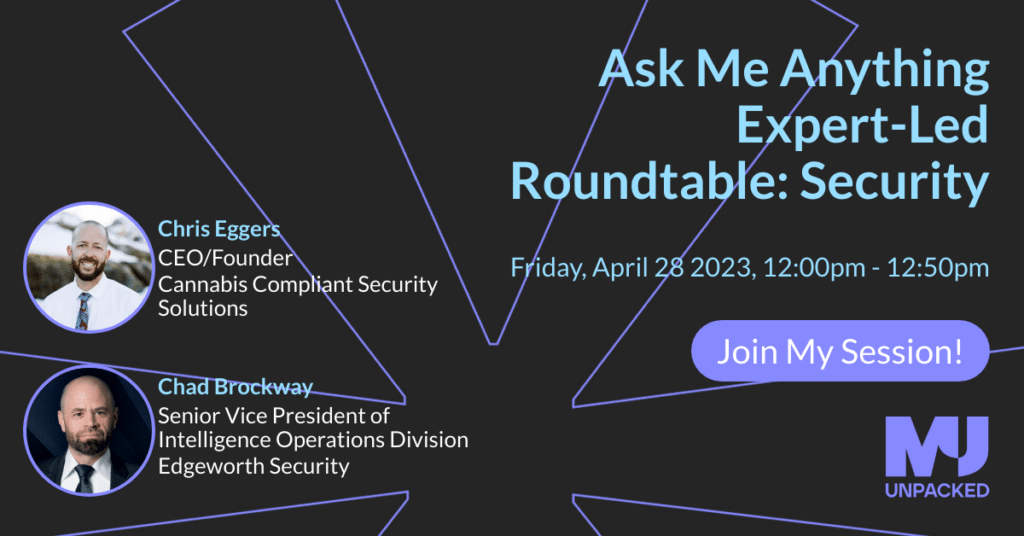 Vendor relationships can be particularly nasty tangles for new owners. While they acclimate to their new circumstances, more unscrupulous vendors will take advantage of their divided attention by attempting to handcuff themselves to the client and prevent them from seeking out alternatives.
Throughout the panel, CCSS will provide guidance for prospective investors in navigating these relationships, avoiding the pitfalls common to both new and seasoned dispensary owners and how to best manage the many risks associated with owning and operating cannabis consumption spaces.
Eggers will additionally share what he has learned over the years of providing security services to businesses operating in every sector of the industry and how the nature of security threats have evolved over the years. CCSS is dedicated to pushing the boundaries of what's possible in the field of cannabis security, which means the panel will grant you access to exclusive insights into how you can shield yourself and your business from criminal targeting and legal liability through the use of novel technologies and procedures.
If you're interested in learning the ins and outs of properly protecting your new investment, there's only one place to learn more. Book your attendance today!