The use of drone footage has become ubiquitous in many industries today, from real estate marketing to the entertainment industry to preservationists tracking endangered wildlife. One avenue in which drones are now taking their first major steps is their use in private industry perimeter security and detection.
Using drones for security seems like a no-brainer, considering the advantages of having a mobile aerial security camera. However, their use has been largely limited thanks to numerous local and federal regulations…until now.
Cannabis Compliant Security Solutions has recently unveiled a plan to provide Drones as a Service (DaaS) as a part of their security package to qualified clients. This service will utilize a specialized drone housing unit placed on the roof of the establishment that can be opened autonomously and allow the FAA-certified pilot to perform the scheduled patrols.
The Benefits Of Drones as a Service
Drones provide many obvious advantages over traditional manned security patrols, including greater observational capacity, automatic recording of UHD footage, and the ability to utilize advanced in-built detection equipment. Drones have been an integral part of reconnaissance in militaries all over the world for over a decade now, and those advantages perfectly translate over to perimeter security.
The increased view distance provided by the drone's ability to fly high above the streets means it can create a complete picture of the area surrounding the premises rather than relying on the line of sight of a single person on the ground. With the increased view angle, pilots can identify potential threats and security breaches that would not be visible to ground-level guards.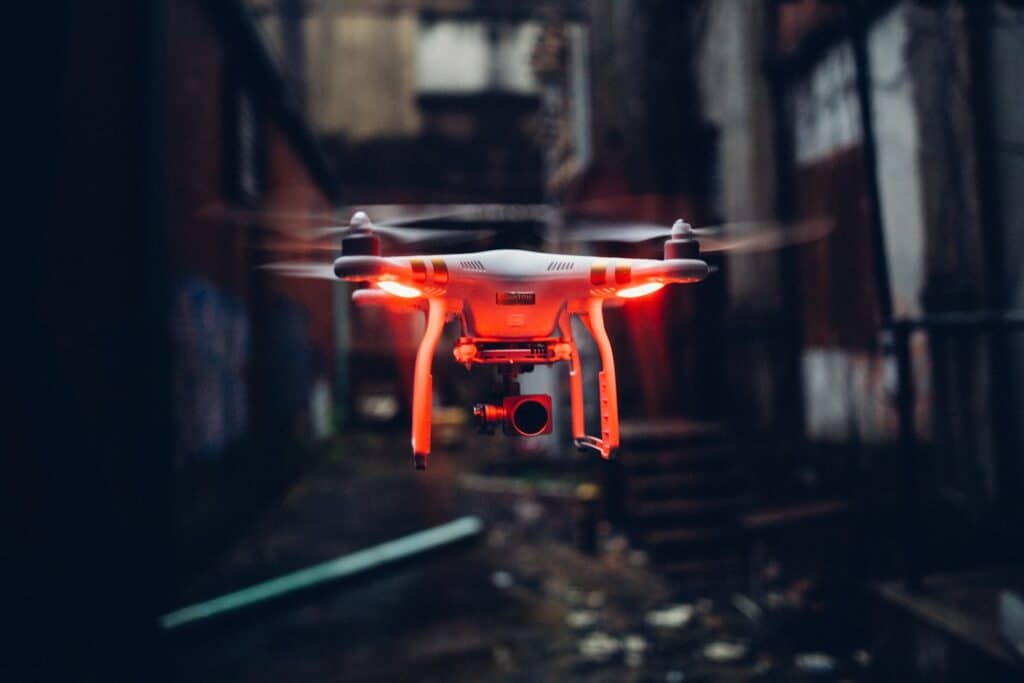 Beyond just the enhanced view angles, drones can also be equipped with thermal and night vision capabilities to enhance their detection capabilities. With the footage provided by the drone's onboard camera, pilots can provide law enforcement with exact details, including whether or not the intruder is armed or equipped with special tools, and even provide a UHD stream of the threat and their location.
Utilizing the DaaS program eliminates a huge potential risk for both your business and the guards patrolling your property. Guarding a property is an inherently dangerous occupation, and any potential altercation involving your hired security personnel might make you liable to disastrous financial and legal consequences. By opting for drones over guards, you can eliminate the safety and liability risks and identify threats before they have a chance to cause harm to any personnel on-site.
By using the DaaS program, you get better threat detection abilities without the added risks, all at a lower price point than the traditional manned patrols.
How It Works
While it may seem like drones are everywhere these days, quite a few local and federal regulations stipulate how and where drones can be used. For businesses, drone usage must comply with FAA regulations, in addition to any commercial insurance policies, LAANC, and local rules governing their usage.
This presents an enormous hurdle that many security companies aren't interested in clearing. CCSS recognizes the paradigm-shifting role drones will play in the security industry, which is why they developed the DaaS program to be fully in compliance with the FAA and tailors its usage on a case-by-case basis to comply with local regulations.
Part of this compliance is the use of specially trained drone pilots to perform the scheduled patrols. CCSS is helping to train former security guards to become certified pilots, thereby taking them off of the dangerous foot patrol duty and into the comfort of an indoor piloting station.
Drones mark the next big step forward in our ability to secure our businesses, sheltering owners from the potential risks of manned patrols while providing enhanced threat identification and tracking functions. If you are interested in seeing how drones can help secure your business's future, contact CCSS today. 

Drones as a Security Service (DaaSS) PDF